Some posts just do not need a lot of wordy explanation, this is one of them.
I am a HUGE fan of the blog Cookies and Cups.

It borders on stalking, not quite tree snapping, window drooling….but close.

I am okay with that because she is so flippin awesome.
You can easily go to her blog by clicking on her button: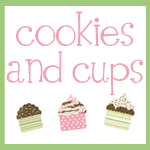 Back in March she had the BEST post were she made a sheep cupcake topper out of a white mini powdered donut.

The name of the post was Counting Sheep…to read it (and find out how you can make your own sheep) click HERE.
The post intrigued me for two reasons...
1. I am obsessed with the powdered donut (any donut for that matter)
2. As a PA in a pulmonary and sleep practice, I often see patients in clinic with sleep related issues...insomnia, sleep apnea etc....so "counting sheep" made me chuckle.
Immediately inspired by the sheep cupcake topper, I knew what I had to do.
This is where I stop explaining….
Yes, it is a black sheep.

Need I say more?
Well…ok…sometimes I would like to feel more like this…
Most of us at times have probably felt we are a square peg in a round hole kinda world. Well, I sometimes I feel as if I am a black sheep in a white sheep flock.
I want to thank Cookies and Cups for her constant inspiration, witty humor, wicked good posts and for keeping me sane.
She is one of my therapists and I really appreciate the time and energy it takes to produce her blog.
Making this cupcake really, really made me laugh. Laughing is good therapy.
So are cupcakes.
This is my life as a black sheep cupcake, thanks for visiting!
Linking up with:
Hoosier Homemade Cupcake Tuesday!
Something Swanky Blog ~ Sweet Treats Thursday